Tulsa Limousine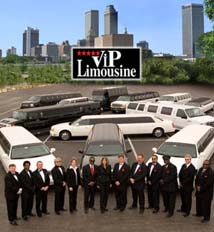 Tulsa Oklahoma has the most art deco architecture in the country due to the taste of numerous oil tycoons that profited and constructed during the cities oil-boom in the 1920s. The city museums also have a great number of works of art that were donated by prosperous citizens. The city has progressed over the years, but still retains its charm and history.
The downtown area is near the river and has many decorated walkways, sitting places, restaurants, cafes, and the Performing Arts Center. Midtown houses the art museum and the Cherry Street District, where you can find the Expo Center that houses a water park, amusement park, baseball stadium, and a variety of shops, restaurants and bars. This area contains the most action per square inch in the city.
There is a lot to do and see in Tulsa and you can see it all with VIP Limousine. Their service is great for taking your wedding party around town, but they're also great transportation for other large family outings, and wild nights on the town.
Address and Phone
Phone: 918-492-5984
Website: VIP Limousine