Charleston Party Bus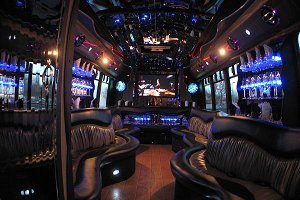 Charleston, South Carolina is one of the oldest cities in the country, so it's had some time to get things right -- and it has! The city is a vibrant center for culture, including a theatre and dining scene that rival bigger East Coast cities. But in Charleston, they do it all at an easier pace, in a friendly way, which is what makes it a place locals are happy to call home. Charleston residents combine the old and the new in a creative, elegant way that's evident in their everyday way of life.
Charleston's Party Bus is a proud member of the Charleston community, and we are happy to be a part of the most important events in our clients' lives. Our services provide an unexpected kick of excitement and fun to corporate events, family reunions, and church mission trips. We're the go-to transportation provider for fun and safe bachelor and bachelorette parties, bar crawls, and proms. And, of course, we love to be a part of the Charleston Battery, RiverDogs, and Outlaws games by transporting their biggest fans to tailgate parties and then out on the town for a celebratory lap after the game. Whether you're headed to the theatre, the field, or down the aisle, we've got you covered!
At Charleston's Party Bus, the safety and comfort of our clients is our number one priority. We're a fully licensed party bus company, and every single one of our drivers has earned a commercial driving license. Our drivers are routinely tested for their driving and their customer service skills, and our vehicles are meticulously maintained. And, of course, after all the business is taken care of we're intent on making sure our clients have a great time!
Address and Phone
Phone: 843-501-1900
Website: Charleston Party Buses